Title:

Crysis 2

Release Date:


25th March 2011

Available For:


PS3, PC, Xbox 360

Reviewed On:


PS3

Crysis 2 opens with Alcatraz, a slightly hungover marine, and the game's silent protagonist, awaking from a slumber on a submarine transporting a group of soldiers to their infil point in a post-apocalyptic, plague-ravished New York City. They don't quite make it before their sub is critically damaged and, upon surfacing, they are attacked by an alien vessel which kills almost everyone.
Alcatraz isn't in good shape and is saved only by Prophet, a mysterious nano-suited figure, who players of the first game should know well (yes, he's still alive, but not for long). Prophet is infected, and his final act is to give Alcatraz the suit, and effectively his life, so he can continue his work to push back the alien Ceph forces, before promptly killing himself. And this is where we take control.
The plotline is a great improvement over that of the original; the beginning may feel a little slow, but it gives the player time to take in the devastated world in which they now inhabit and assess who they can trust. Once it gets into the swing of things, Crysis 2 doesn't let up with action packed set pieces bridging areas of narrative that hurtle through twists and turns in a tale of revenge, deceit and revelations as the truth about the suits, shadowy suit patent-owner Roger Hargreave and the origins of the Ceph emerge. It's intriguing to say the least, if a little confusing in places.
However, increased focus on story comes at the price of reduced sandbox gameplay. While we could go marauding around the Ling Shan Islands in Crysis, the pace and events of Crysis 2 are set and scripted out in a linear fashion. However, despite the overall loss of open world roaming, each scenario is almost a little sandbox itself and the game rarely tells you how to approach the current objective, allowing players to choose between multiple routes and combat methods, and total stealth is often a possibility.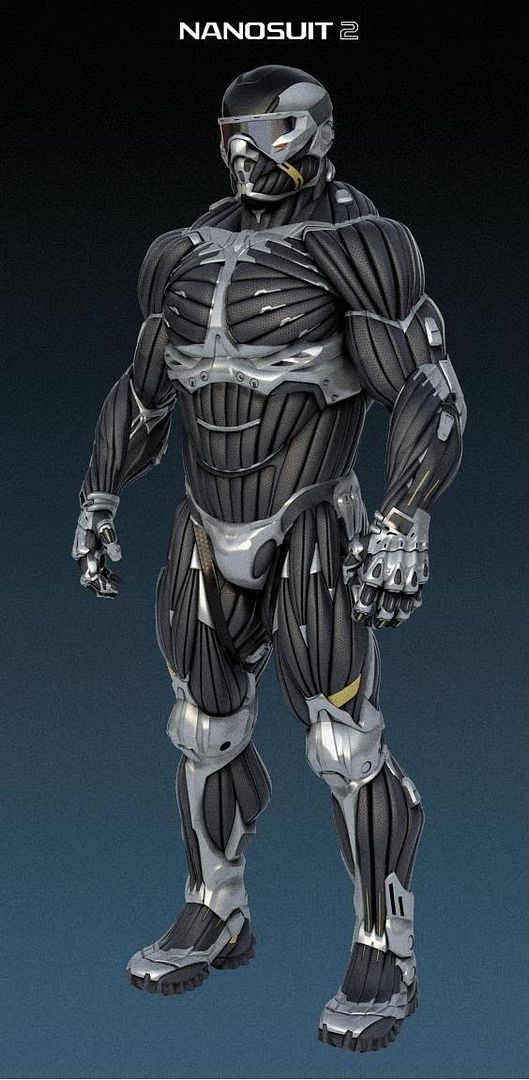 What makes this all possible is the Nanosuit that you are wearing - and it's thanks to the suit that Crysis 2 stands out from other shooters. The Nanosuit 2's abilities are slightly changes from the original Nanosuit, but it still grants you superhuman abilities in four categories: Armour, Cloak, Vision and Strength.
Armour mode gives the player increased resistance to bullets and explosives, as well as preventing fall damage, however it permanently drains suit energy while on.
The Cloak allows for temporary invisibility, with faster actions draining more power, and firing or meleeing while cloaked completely draining power.
There are also two Vision modes: Tactical allows the player to see important items and locations, and enemies, which you can tag to show up on the normal HUD; and Nanovision acts as a thermal / nightvision camera, allowing decent vision in the dark, and also displaying cloaked enemies in pale blue.
Strength is the combination of Maximum Power and Speed from the original, which no longer exist as actual modes, but come into effect automatically when using melee, throwing objects and power jumping, or sprinting, respectively, allowing feats of physical strength to be performed in combination with the other two modes.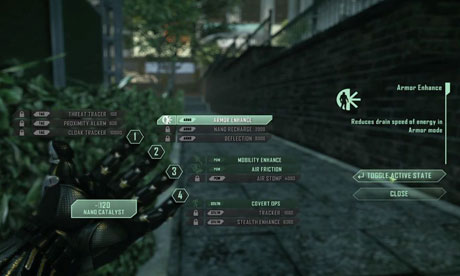 To further improve these modes you are able to customise exactly how your suit functions. There's a total of 16 upgrades – 4 in each category of Armour, Power, Stealth and Visor – that can be unlocked by collecting 'nano clouds' from fallen foes. By saving up enough, you'll be able to purchase and equip an upgrade from each section. You'll need to save a fair bit for the top ones though, as upgrades only become available after the previous one is purchased. There is no real menu for this upgrade feature, and instead they appear holographically above your hand, with Alcatraz wiggling his fingers as he cycles through them, which is a nice touch.
Weapons also have a variety of customisable parts, for example different sights, suppressors and flashlights, as well as a firemode toggle between fully- and semi-automatic, giving you increased control over how firefights play out.


There's a decent variety of weapons, including assault rifles, sniper rifles, pistols and explosive launchers. Each handle well in their own areas, and have some great animations. Spray and pray mentality is best avoided, and a good choice in sight is a good investment as ADS accuracy is important. Melee is pretty powerful against the majority of enemies, and is definitely a feasible option in sticky situations on low ammo; grabbing and throwing enemies, as well as stealth kills are particularly satisfying.

The gameplay stands up well, and the aesthetics of the game don't disappoint either. Considering Crytek's previous titles, this is perhaps unsurprising, but the fact that Crysis 2, while admittedly scaled down from the PC version, can run so well and look so fancy in consoles is a significant accomplishment.
Lighting is particularly impressive, with dynamic shadows, reflections and god rays making the ruined surroundings as beautiful as possible. Character and environment models are highly detailed with decent quality textures to match, and post-process effects of bloom and motion blur top it off.
Sound design is also very well done: bullets whistle past, nearby explosions temporarily blow out the audio to a muffle, and the roar of collapsing buildings is very immersive, especially playing with surround sound. The alien enemies make distinctive, intimidating sounds, and human enemies can be heard talking and making call-outs of your location. Outside of the action, dialog is well voice acted and adds a lot to the believability of the characters and the story line. And, of course, the soundtrack is beautiful, with chilling orchestral pieces courtesy of Hans Zimmer.
However, as with any game, it's not all good.
Dumb AI, particularly from the human enemies, detracts from otherwise solid gameplay and visuals, especially when they attempt - and fail - to find cover. There are also some sections which actually require you to perform a specific action to progress, but it isn't always clear what - the battle against the helicopter at the lab comes to mind.
There's also a fair share of bugs to contend with: on several occasions my gun has disappeared while Alcatraz's hands remained in the holding animation; once I was actually able to still fire with this invisible weapon, although normally this simply stops you from shooting. Sometimes certain audio effects become completely inaudible, such as gunfire. In one level, I had to restart and lose all my progress because carrying JAW rockets between levels prevents them from firing, and the weapon was required to defeat a large enemy at the end of the mission. These issues are pretty irritating, and the frequency at which they occur suggests they should have easily been picked up in QA and fixed.

On top of the singleplayer, there's also a multiplayer mode, which is very similar to Call of Duty.
Earning kills in a row without dying rewards players with familiar killstreak rewards such as a radar, radar jammer, airstrike and air support gunship, at kills 3, 5 and 7.
Custom class loadouts are constructed pre-match which contain a primary and secondary weapon, and three suit modules that are similar to perks.
Game modes available include Instant Action (deathmath), Team Instant Action (team deathmatch), Crash Site (a capture and defend mode), Capture the Relay (CTF), Assault and Extraction (both assault-defend modes).


There are some key differences from the Call of Duty formula that are worth noting: melee isn't a one-hit-kill, preventing panic meleeing; killstreaks vary depending on map; and killstreaks are only rewarded if the kills are confirmed by collecting dog tags.


In gunfights, normal people will take a few well placed shots to go down, but those with Armour on will take more. And that's not the only suit function that can be used – the super jump, sprint and Cloak are all available to use in multiplayer.

Unfortunately, it all just feels unbalanced. Cloaking is already a camper's fantasy – you're invisible! - and combined with the fact that moving while cloaked greatly reduces precious suit energy, a lot of people have grown fond of sitting in corners or crouch walking around while invisible. On top of that, crippling lag makes Crysis 2 very difficult to play online, and the killcams - based on COD again - are near useless (although being headshotted will result in cool bullet follow killcam).

Overall, the singleplayer is great, and secures Crysis 2 as one of my favourite games this generation, despite some glitches which detract slightly from the experience. Unfortunately, the same can't be said for multiplayer, which, despite sounding great on paper, is ruined by crippling lag and generally being very slow paced.

Final Score
9/10
The gadget spec URL could not be found